How to create a free website
You can currently host your website here for free, with the only requirement being that you have a domain name already registered.
Can I also register a domain name for free
, I hear you ask? Why yes you can! This page will walk you through the process.
freenom.com
are a domain registrar who offer both paid and
free
domain names. Their free domain names are limited to a small number of top level domain extensions, head over to their website to read more about them.

Start by searching for the domain name you're after. The available free domain names will be listed with their top level domain extensions.

I had an issue at this point, clicking "Get it now!" showed the domain name as unavailable. I eventually found that searching again with the domain name
plus the extension that I wanted
worked as expected.

Once you reach this point you can click the Checkout button which will display the form below. Click the "Use DNS" button to set the IP address for your domain name, using the Freenom DNS Service. You need to set it to
139.162.32.104
to use
i.haza.website
. If you want to use the "www" subdomain you can fill in the same IP address here too. Also change the registration period from 3 to 12 months, which is the maximum allowed here for free domains.

Click Continue to reach the next form. In the bottom left you can enter your email address, then click "Verify My Email Address".

At this point Freenom will send you an email containing a confirmation link so that you can finish setting up your account with them. You will need that later, but for now you can go back to
the front page of this site
and enter your domain name. Once your domain name is resolving correctly you will be asked for you email address.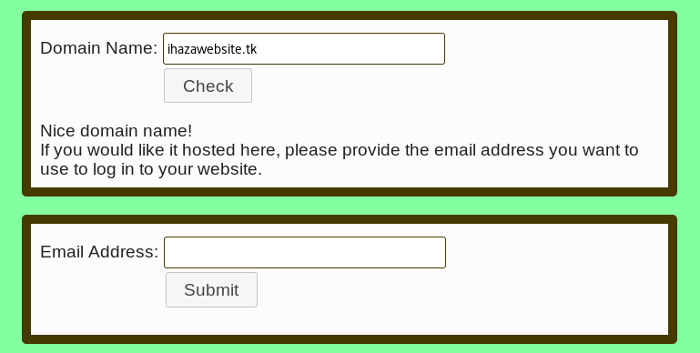 Enter your email address and click Submit. You will receive an email containing a verification code. This is required for
i.haza.website
to know that your email address is linked with the domain name that you've registered with Freenom.
It needs to be added to your Freenom DNS records, otherwise you won't be able to log in to your new website!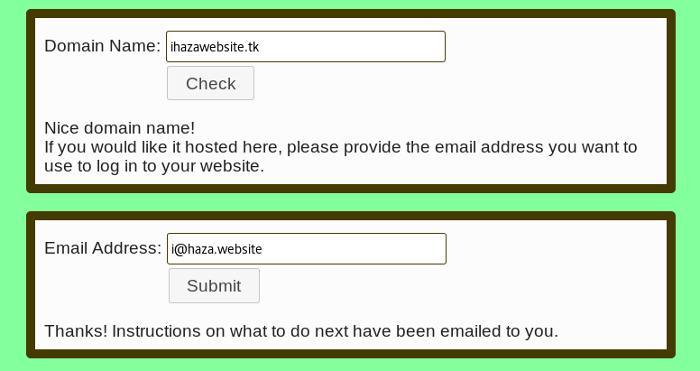 To add the verification code to your DNS records, log in to your account on
freenom.com
. When you're logged in, click the Services menu and then "My Domains".

In the form shown below click "Manage Domain".

Then select the "Manage Freenom DNS" tab.

This will show you a form containing the A records that were created when you registered the domain. You now want to create a TXT record using the form at the bottom of the page. From the email sent by
i.haza.website
, copy the whole string starting with "ihaza-verification" into the Target field shown, leave the Name field blank and click Save Changes.

The page should display a message saying the record was added successfully.

You will need to wait for DNS to propagate again, but otherwise you're all done! You will receive an email once your website is available to log in. You can try
the font page
again to make sure all your settings are correct.

If you've read this far, thanks for giving it a go! If you have any questions please feel free to use the
contact page
.